KNR and nonprofit make young boy's dream come true

Shane Haddad, who was diagnosed with brain and spinal cord cancer in 2010, and his family recently attended a free Lady Antebellum concert at Blossom Music Center courtesy of a partnership between the Akron-based personal injury law firm Kisling, Nestico & Redick and the nonprofit organization A Kid Again. Pictured here at the July 20 concert from the left are Ava Haddad (Shane's sister), Eric Haddad (Shane's father) Brooke Haddad (Shane's sister) and Amy Haddad (Shane's mother). Shane Haddad is in the front. (Photo courtesy of Amy Haddad).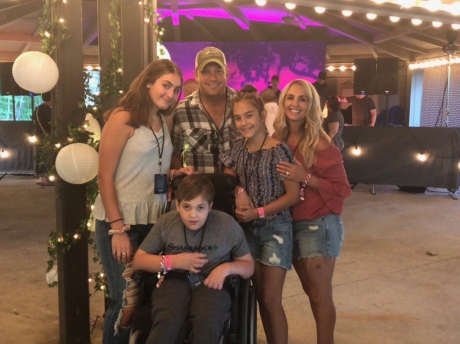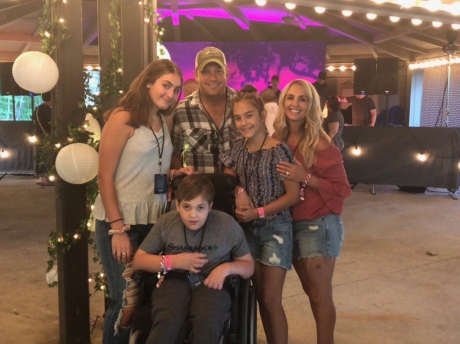 SHERRY KARABIN
Legal News Reporter
Published: August 10, 2018
It's been about eight years since 12-year-old Shane Haddad was first diagnosed with brain and spinal cord cancer.
Since then he's undergone chemotherapy, radiation and three brain surgeries that left him paralyzed on the left side of his body.
"Shane is in a wheelchair now, but the good news is his cancer is stable," said his mother Amy Haddad. "His memory is coming back and he is able to enjoy some of the same activities as his sisters."
His mother said music, especially country music, plays an important role in Shane's everyday life and that of his entire family.
"Shane always loves listening to music," said Amy. "He plays music on his portable speaker, which he takes with him everywhere he goes."
So when Shane and his family got the news that they won a raffle for Lady Antebellum tickets at Blossom Music Center in Cuyahoga Falls, it more than made their day.
"Blossom is about 45 minutes to an hour away from where we live in Rocky River so it is not something we would have done on our own since long trips can present difficulty," Amy said.
The experience was made possible through a joint partnership between the Akron-based personal injury law firm Kisling, Nestico & Redick (KNR) and the nonprofit organization A Kid Again, which provides free year-round group activities called 'Adventures' to families raising children with life threatening illnesses.
"We have three chapters in Ohio and a new one in Indianapolis," said Christine Bucknell, executive director of the northern Ohio chapter of A Kid Again.
"Our goal is to provide Adventures that the entire immediate family can enjoy so they all can take a break from illness and create happy memories that will last forever. Adventures take families to exciting destinations such as Cedar Point, Indians games and trips aboard the excursion ship Good Time III to name a few," said Bucknell.
"Brothers, sisters and parents are included because they all are affected by illness in their own unique way."
KNR is a sponsor of the 2018 Summer Concert Series at Blossom Music Center, so Bucknell said the firm provided the family with the tickets along with other amenities such as free parking and VIP access.
"We learned the firm was interested in doing something special for the people who live in the community," said Bucknell. "KNR suggested concert tickets and we suggested a drawing with concert tickets as the prize."
Bucknell said all the organization's enrolled families were eligible to participate in the raffle.
KNR partner John Reagan said providing the concert tickets is one of the many ways in which the firm is fulfilling its year-long initiative known as KNR Cares, which began in January.
"We've always been very involved in giving back to the community by hosting or participating in events such as the Polar Bear Jump in February, our school supply giveaway in August and our annual turkey giveaway in November, but this year we wanted to commit to doing something each month," said Reagan. "We decided to partner with A Kid Again for our July KNR Cares event.
"We donated the tickets and we were happy to see that they went to such a nice family," he said.
The concert, which also featured singer Darius Rucker, took place on July 20 and included a special performance for about 40 VIP guests before it began.
"I met the family at the gate and escorted them back to the VIP area before the concert began," said Reagan. "I spent time with them before the VIP performance and it was clear how much care, love and support they have for Shane," said Reagan.
"My wife and I stopped by their seats during intermission and Shane still had a huge smile on his face. It was truly heartwarming to see him and his sisters having a great time," Reagan said.
"It was an amazing experience for us all," said Amy. "Shane absolutely loved it and his sisters Brooke and Ava enjoyed it too as did my husband and I.
"The next morning I thought Shane would be tired, but he wasn't he just said 'we partied like rock stars.'"
In addition to the concert ticket giveaway, in June attorneys and staff at KNR donated over 7,000 diapers to Making Kids Count, a nonprofit in Youngstown that works to improve the lives of children and families.
The diapers were collected by KNR employees in the firm's Akron, Cleveland, Columbus, Toledo and Youngstown offices and went to families struggling to make ends meet.
This month KNR plans to provide 150 backpacks filled with school supplies to families in Akron, Youngstown, Cleveland, Columbus and Toledo.
"Working with so many great organizations has been a wonderful experience," Reagan said. "Our business model is designed to help as many people as possible, a goal which is consistent with the attitudes of our employees and the basis for the year-long KNR Cares campaign."